You know Keijo, the anime that reinvented the sports genre by making its female cast compete exclusively with, well, their booties and tiddies. It mixed fights with fanservice and humor in an exquisite and hilarious blend that made its audience crave for more of that novel and unique type of content. It became so popular that there was even an attempt at reproducing the sport in real life, which unsurprisingly flopped as it was completely unable to imitate the beautiful absurdity that only anime can bring.
If you're a fan of Keijo and miss those exciting scenes of high-octane action and cheeky humor (pun absolutely intended), then you've come to the right place! In this article, we've rounded up 10 anime recommendations that are sure to scratch that Keijo itch. Whether you're looking for more school-set battles featuring scantily-clad warriors, or some fantasy adventures filled with ecchi humor, each of these anime promises to keep you on the edge of your seat with their thrilling action and bursting with laughter with their shameless fanservice. Ready? Brace yourself for a butt-kicking ride filled with bouncing tiddies, ripped abs, and ridiculous humor.
Kill la Kill
Set in a world where clothing has immense power, Kill la Kill follows the story of Ryuko Matoi as she tries to uncover the truth behind her father's murder with the help of her talking sailor uniform, Senketsu. Expect a lot of skin-tight outfits, exaggerated movements, and crazy battle scenes, all styled with exquisite, over-the-top animation that will leave you breathless. And don't worry, the fanservice is not just for show; it's an integral part of the story and the characters' motivations. For real. Whether you're laughing at the silly antics or gasping at the explosive battles, Kill la Kill is sure to entertain you from start to finish.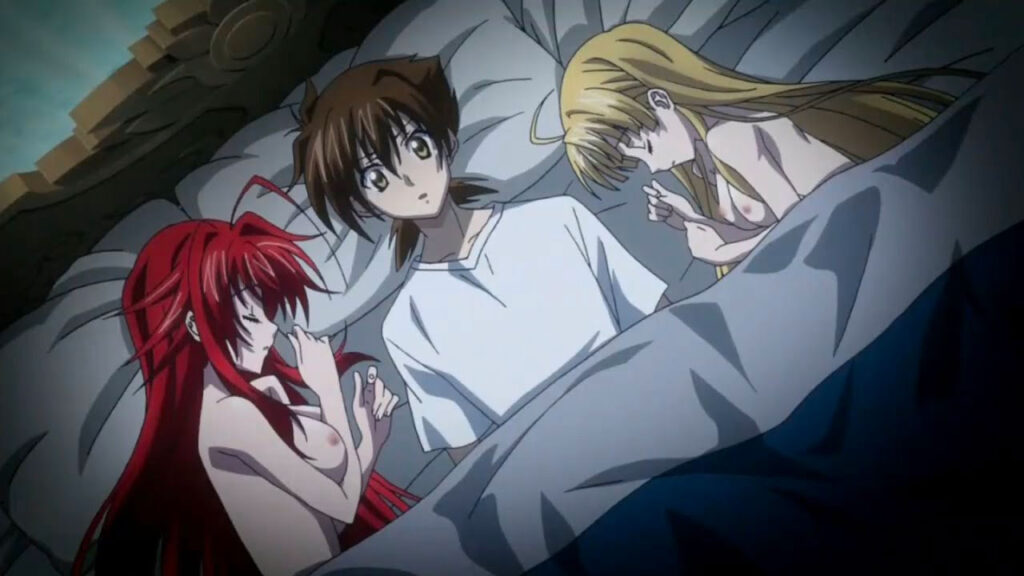 High School DxD
High School DxD is a harem anime that combines thrill and comedy in the best way possible. The story follows the adventures of a perverted high school student named Issei Hyodo, who is reincarnated as a devil and joins the devil's school for training. Issei is surrounded by a cast of devilish beauties, including a seductive devil princess, a flirtatious fallen angel, and a mischievous succubus. With each episode, Issei finds himself in ever more outrageous and hilarious situations, often involving lots of skin-tight clothing, suggestive poses, and kinky dialogue. While watching High School DxD you'll find yourself both laughing at Issei's pervy clownery and cheering him on as he battles against powerful enemies, all in a totally worthy wild ride.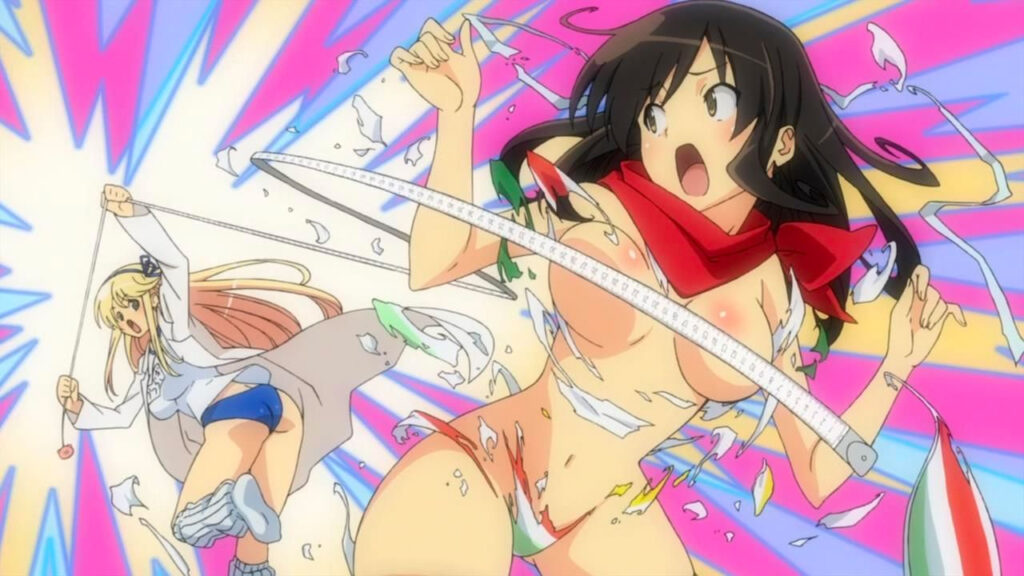 Senran Kagura
Senran Kagura started as a video game series and has since expanded into multiple media forms including an anime adaptation that offers a unique blend of fast-paced action, eye-catching character designs, and comical sexual references. The show follows a group of schoolgirls trying to balance their ordinary lives as students with their secret training as ninjas, while attending rival schools, each with their own unique skills and personalities. The battles in the series are intense and feature flashy ninja moves and crazy special abilities, all originally introduced in the video game series. The character designs are a feast for the eyes, with each girl sporting an outfit that is equal parts practical and revealing. And the humor is just as risque, with plenty of jokes about breasts and panty shots. Senran Kagura is an anime that knows exactly what it is and isn't afraid to embrace it. So get ready to immerse yourself in a world of martial arts, oppai cuties and plenty of laughs.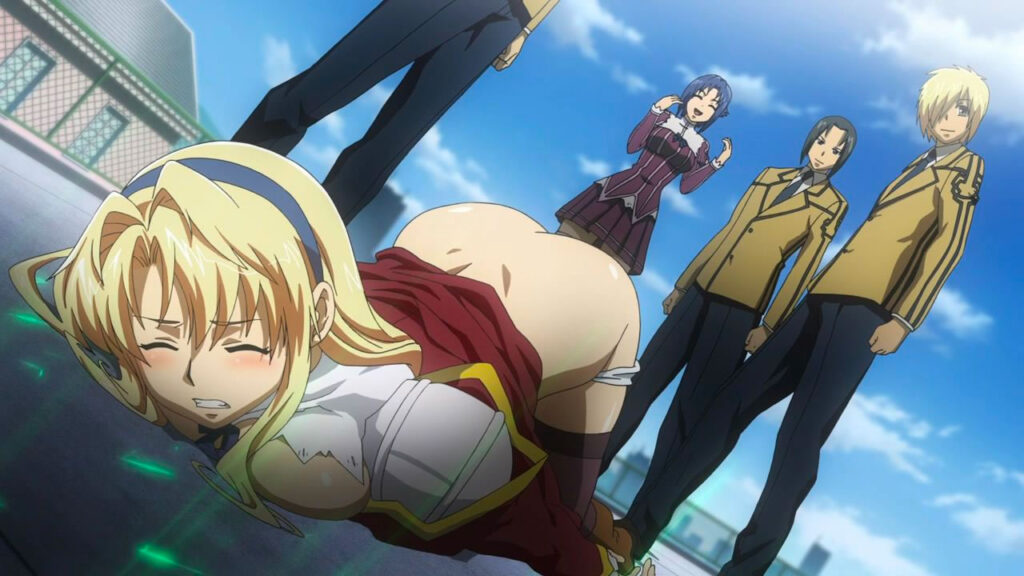 Freezing
A science-fiction and action ecchi gem, Freezing takes place in a world where humanity is under attack from interdimensional beings called Nova and the only way to fight them is by using special, genetically-engineered female warriors known as Pandora. The series focuses on the journey of Kazuya Aoi, a kind-hearted and compassionate young man who enrolls in an academy to train as a Limiter, the male companions of Pandora. However, things get a little steamy when he's paired with the most powerful Pandora in the academy, the beautiful Satellizer el Bridget. The relationship between Kazuya and Satellizer is one for the ages, a classic love-hate relationship, complete with lots of sexual tension, drama and compromising positions. Pair all this fanservice with intense sci-fi battles, top-notch animation and lighthearted humor, and you have a recipe for full satisfaction while enjoying Freezing.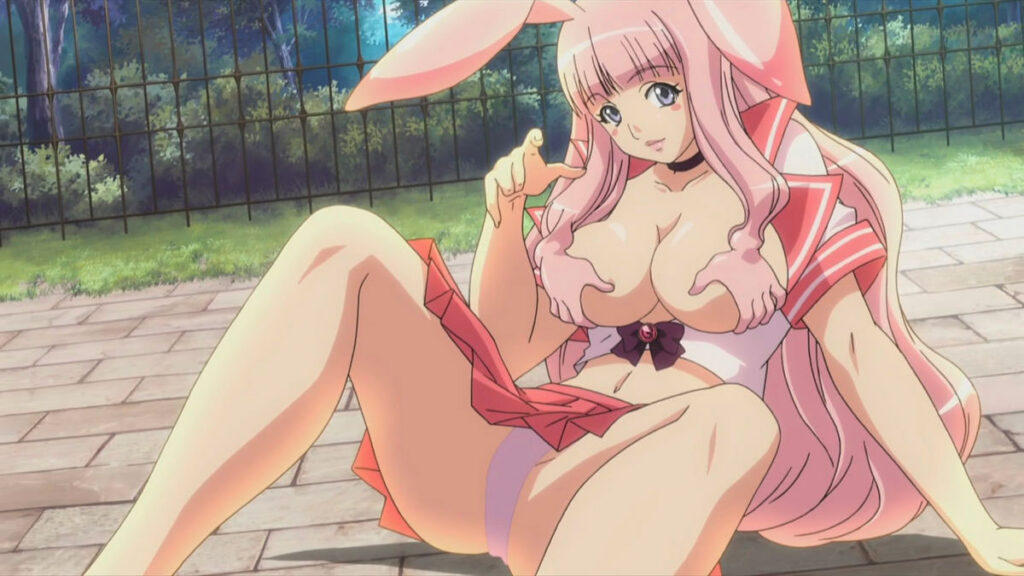 Queen's Blade
What if you took the battle royale genre and added a healthy dose of fanservice and comedy? Well, that's Queen's Blade. This anime is a medieval-fantasy epic that takes place in a magical world filled with warriors, mages and otherworldly creatures. The story revolves around a young woman named Leina who sets out on a journey to compete in the Queen's Blade tournament, where powerful female warriors gather every four years to fight and determine who will become the next Queen. The battles and drama are intense, with each warrior having their own weapons and abilities, but also their own motivations and backstory. The character designs are eye-catching and provocative, and the humor often involves sexual references and suggestive jokes. So, if you're ready for a journey filled with dangerous competitors and curvy warriors, Queen's Blade may be the anime for you.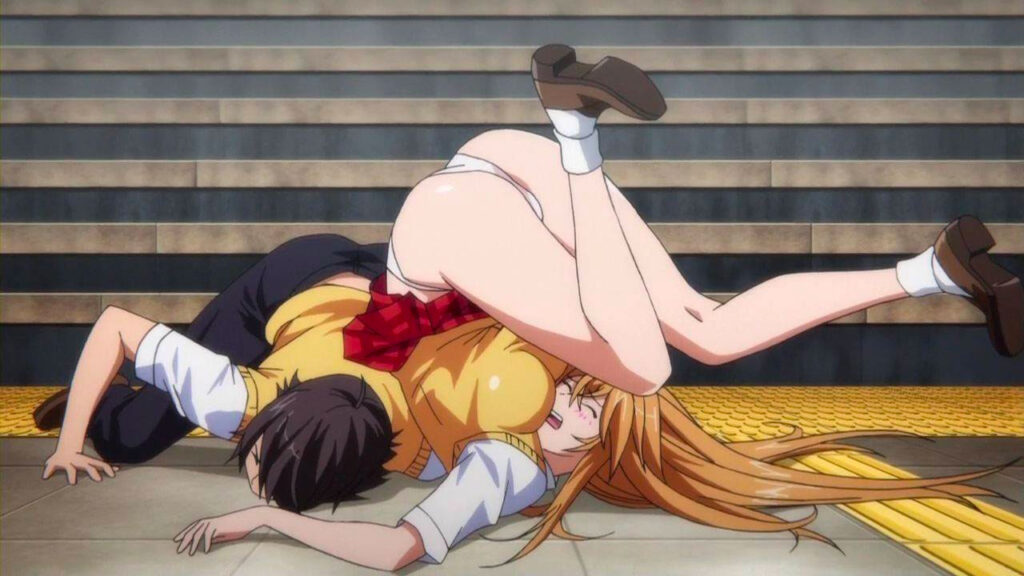 Ikki Tousen
Ikki Tousen, also known as Battle Vixens, follows seven high school students who are reincarnations of legendary warriors, fighting to determine which high school will rule the land. These students, who each wield unique abilities, battle it out in an all-out war for dominance. The show is known for its over-the-top action sequences, fanservice, and larger-than-life characters. It's a prime example of why you should always keep a spare shirt in your school bag, because clothes tend to fly off during battles! Overall, Ikki Tousen is a wild ride filled with lots of laughs, intense battles, and more than a few moments that will leave you scratching your head.
Valkyrie Drive: Mermaid
Valkyrie Drive is a series of video games and anime revolving around a common world. Mermaid is the action-packed, yuri anime adaptation and will have you hooked from the very first episode. The plot takes place in a world where a virus has infected a group of girls, turning them into either Extar Arms, who can transform into weapons when sexually aroused, and Liberator Arms, who can wield Extars. The story follows a young girl named Mamori who is transformed into an Arm and sent to a remote island where she must learn to control her powers and fight against other Arms, while also exploring romantic relationships with other girls on the island. With its over-the-top action scenes, borderline hentai moments, and colorful cast of characters, Valkyrie Drive: Mermaid is sure to please any anime fan who is looking for a good time.
Maken-Ki!
Maken-Ki! is a lively and lighthearted harem anime that strikes a perfect balance between action, humor, and ecchi elements. The story follows the journey of a young man named Takeru who enrolls in a formerly all-girls school that trains its students in magical combat. But as it turns out, this school is also filled with beautiful and powerful girls, and Takeru soon finds himself caught up in a series of thrilling battles and romantic entanglements. The battles are fast-paced and full of energy, with each character bringing their own unique skills and weapons to the table. However, the real highlight of this anime is its comical and flirtatious tone. The humor often involves sexual innuendos and playful jabs, and the character designs are full of fanservice moments that are sure to leave viewers with a smile on their face. So, if you're looking for a fun and frisky anime that delivers equal parts action and laughs, look no further than Maken-Ki!
Aesthetica of a Rogue Hero
A classical isekai ecchi, the story of Aesthetica of a Rogue Hero revolves around a young hero named Akatsuki, who is transported to a parallel world filled with magic and monsters. In this world, Akatsuki is tasked with becoming a legendary hero and saving the day. But of course, things are never as simple as they seem, and Akatsuki soon finds himself embroiled in a power struggle between various factions. The action is pulse-pounding and full of excitement, with each battle delivering a rush of adrenaline. But the real highlight of this anime is its playful and mischievous tone. The humor often involves sexually charged jokes and witty banter, and the character designs are full of mouth-watering moments. So, if you're looking for an anime that offers a thrilling and cheeky experience, Aesthetica of a Rogue Hero might be the perfect choice.
Is This a Zombie?
Is This a Zombie? is a quirky and irreverent take on the zombie genre that is sure to make you chuckle. Our protagonist, Ayumu, is a zombie who has been resurrected by a necromancer and is forced to become a magical girl in strange circumstances. Ayumu's antics as a magical girl are sure to leave you in stitches, as he tries to figure out the mystery behind his own death, while struggling to balance his newfound powers with his own awkward personality. To make it worse, the supporting cast of characters —including a vampire ninja, a chainsaw-wielding magical girl, and a busty necromancer— add even more humor and excitement to the mix. So if you're looking for some light entertainment that will leave you feeling like a true weeb, look no further than Is This a Zombie? Just be prepared to hide the screen from your parents, because this anime is only for the cultured!
So there you have it, if you were still mourning Keijo's ending, suffer no longer! You'll definitely find something to love in these 10 anime suggestions. From the ninja battles in Senran Kagura to the hilarious undead adventures in Is This a Zombie?, these anime are sure to tickle your funny bone (it says bone, perv). So sit back, grab a bowl of popcorn, and get ready to enjoy the absurd world of anime.
Do you have any other anime recommendations? We'd love to hear them! Write your comments below.